Contact information
About the company
Type
Company
Members type
innovator

Headquarters
Santa Monica, CA 90401, USA
Company size
5
Founders
Curren Krasnoff
Founded
2011
SDG's
Industry, innovation and infrastructure
Website
cortexcomposites.com
Alliance member
Cortex Composites
---
Cortex Composites, Inc. provides cost-effective, efficient, and sustainable material solutions for commercial and public construction markets.
Cortex Composites is now launching its flagship product, rollable concrete for a variety of applications.
Our geosynthetic cementitious composite mat (GCCM) uses less cement than typical shotcrete or poured concrete methods, and uses synthetic reinforcing fibers in place of rebar.
This solution offers significant carbon and energy savings with increased strength and durability.
Cortex GCCM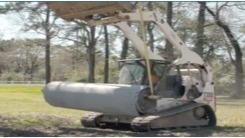 Description
Cortex is a prefabricated rolled cement composite that contours to complex surfaces, and hardens upon hydration
Cortex is 0.5" thick, and can be installed in a wide range of climates. Post-hydration, Cortex forms a waterproof, durable layer of very strong reinforced concrete, with a compressive strength of 7,000 PSI+. It is suitable for lining canals, road construction, erosion control, remediation or settling ponds, and dozens of other infrastructural applications.
Available in
Chile, Ecuador, Canada, United States,
Categories of application
Industry, innovation and infrastructure
Sector of application
Materials and chemistry
Status
Tested implementation
---