Contact information
About the company
Type
Startup or self-employed
Members type
innovator

Headquarters
29200 Brest, France
Company size
8
Founders
Lachèvre frédéric
Founded
2015
SDG's
Industry, innovation and infrastructure
Sustainable cities and communities
Documents

cool roof presentation
Website
coolroof-france.com
Alliance member
Cool Roof France
---
CoolRoofers paint roofs white to cool buildings and cities.
What if painting roofs white was the best solution to limit urban heat, GHG, as well as creating thousands of jobs? Recommended by IPCC, « Coolroofing » is an affordable and quick solution for the mitigation and adaptation to climate change. For exemple, in less than 5 years, new yorkers have painted 2 million m2 white. In California, cool roofing is an obligation. Implementing cool roofs in cities around the world can not only help cities stay cooler, they can also cool the world, with the potential of canceling the heating effect of up to two years of worldwide carbon dioxide emissions. CoolRoofers mobilizes communities to create locally biosourced reflective paints, and coat as many roofs as possible !
A white thermo-reflective roof coating that reflects sun heat
°CoolRoof France optimises the energy bill by applying reflective thermal paint on the roof.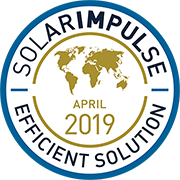 Cool Roof France thermo-reflective resin
Description
Roof application of a white resin Cool Roof to reduce energy consumption.
CRF has developed a reflective resin that is suitable for asphalt, metal, asbestos cement or fiber cement roofing, which combines three major advantages: - High performance elasticity (values ​​reached greater than 350%) - Reflection of thermal radiation from the sun's rays (infrared light) greater than 90% - Thermal emissivity greater than 90% - Reduction of heat transfers by conduction - Decrease fouling by repelling the incrustation of stains, and maintain the white color of the painted surface. Applied on the roofs, this thermal reflective resin, called "cool roof" reflects the sun's rays, significantly limiting the heat input into buildings. Acrylic paint, water based, composed of ceramic elements bonded by different resins, the composition of the product offers a high reflective and insulating power, its application allows to create a heat shield.
Available in
Worldwide
Categories of application
Industry, innovation and infrastructure, Sustainable cities and communities
Sector of application
Materials and chemistry, Building and shelters
Status
Implemented
---