Contact information
About the company
Type
Startup or self-employed
Members type
innovator

Headquarters
1033 SE Amsterdam, Netherlands
Company size
21
Founders
Yasir Khokhar & Saad Ansari
Founded
2015
SDG's
Responsible consumption and production
Website
connecterra.io
Alliance member
Connecterra
---
We are building an Artificial Intelligence that will grow food sustainably to feed future generations.
Ida is the world's first dairy farmers' assistant powered by artificial intelligence. Ida helps you run an efficient dairy farm by learning cow behaviors.
Ida has demonstrated productivity improvements of 30% on dairy farms. Ida does this by learning the behavior of dairy farmers and dairy cows.
Ida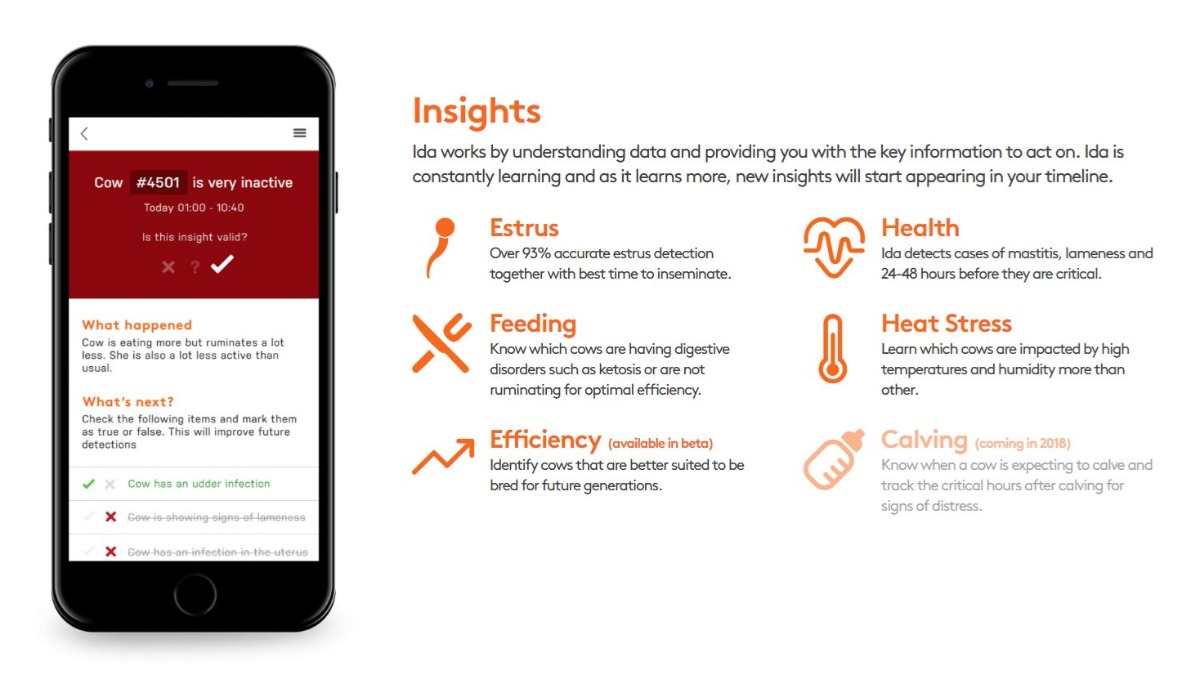 Description
THE AI-BASED INTELLIGENT ASSISTANT FOR DAIRY FARMERS
--- Meet Ida, an artificial intelligence powered dairy farmer --- Ida is a dairy farmer's assistant. It learns the behavior of farmers and cows and provides dairy farmers with insights and recommendations to help improve farm productivity and livelihood of farmers. --- Improve farming labor quality --- Ida is learning from thousands of cows and farms from around the world; it has the ability to improve the skill level of farmers globally. ---Clear productivity improvements & ROI --- In our feasibility assessment we have calculated that Ida will help farmers increase productivity per animal by 22%+. ROIs is 2-3x. ---Better than the average human farmer --- Ida is better than humans at detecting common problems on the farm and is learning more. Ida combines state-of- the-art technologies to deliver the power of AI learning and democratize farming knowledge. --- Self-improving adviser --- Ida learns about the dairy farm and helps the farmer run more efficient operations. Ida gets feedback from farmers and improves its detections and recommendations over time. --- A multi-billion market opportunity --- With Ida in we are aiming at an annual market opportunity of at least €385m by 2023 from the overall €1.4bn global market for connected cows. --- Addresses the key performance factor of dairy cows --- Health & well-being of cows are the main factors responsible for the difference in cow's milk production. --- Versatile detection technology --- Sensors monitor cows' activities & collect raw data, which is processed by AI to detect 7 various types of cow behavior —such as walking, eating, ruminating (chewing) & others. A stellar team that includes engineers, business developers & dairy farmers Connecterra is a team of high quality engineers & business developers who held senior positions at Microsoft, Intel & prominent R&D organization TNO (NL) --- A top 100 global AgriTech disruptor --- We have won numerous innovation competitions (including the 1st prize at 2015 Web Summit pitching event).
Available in
Worldwide
Categories of application
Responsible consumption and production
Sector of application
Agriculture and farming for food production
Status
Implemented
---