Contact information
About the company
Type
Company
Members type
innovator

Headquarters
1015 Lausanne, Switzerland
Company size
3
Founders
Cohades Amaël
Founded
2019
SDG's
Documents

Website
comppair.ch
Alliance member
CompPair Technologies Ltd.
---
CompPair brings healable and sustainable composites to improve circularity.
At CompPair we developed the first healable structural composite to reduce repair time from hours to minutes. Our first product is a smart prepreg (preimpregnated textiles) integrating our novel chemistry and compatible with existing production lines. This new material can be used in traditional composite applications (such as aerospace, automotive, windmill, marine and sport industries) and enable repeated damage healing along with easier recycling at the end-of-life. We extend the life time of composite structures, bringing circularity to the $90 billion composites industry. Current repair solutions are costly and time consuming; and recycling is still nowadays almost inexistent. CompPair tackles these composite limitations, and leads a paradigm change for the industry. CompPair Technologies Ltd. originates from the Laboratory for Processing of Advanced Composites (LPAC) at EPFL in Lausanne, Switzerland. It is the result of thorough research during 12 years in the field of self-healing composites. We have demonstrated a very high interest by the various industries in our product. Initially, we target the marine and sport markets, where entry barriers are low, to gain operational experience and credibility before entering the windmill market in 2022 and later the aerospace and automotive markets. Our technology is adjustable to any fibre types or resin combination, ensuring a highly versatile product that can easily meet various industry needs. We are currently seeking investment to secure our market implementation. Reducing maintenance costs, increasing products lifetime and improving global sustainability while keeping standard specifications are the opportunities we provide to the composite industry.
Smart Prepregs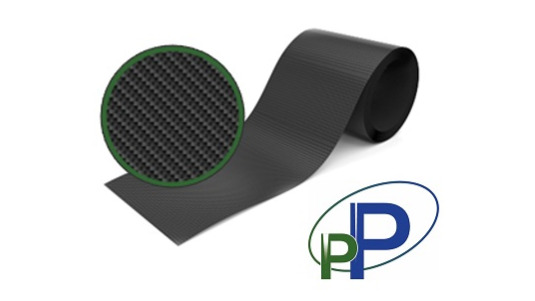 Description
CompPair provides smart prepregs for in-situ damage healing and easier recycling of composite structures.
CompPair develops smart and sustainable material solutions for in-situ damage healing in composite structures and easier recycling. We provide smart pre-impregnated textile sheets (prepregs), which are the precursors to structural composites. These smart prepregs are made of fibres (textiles of glass, carbon or natural fibres) pre-impregnated with our unique resin. Prepregs are sold as rolls to clients who only have to lay the sheets on their mould (manufacturing line) and heat the stack to obtain a composite with healing functionality and better end-of-life management. This product ensures compatibility with current composite manufacturing processes. Thanks to the healing and recycling functionalities, composites made of this solution provide the following opportunities: reducing maintenance cost; increasing product lifetime; and improving global sustainability.
Available in
Switzerland,
Status
Tested implementation
---