Contact information
About the company
Type
Startup or self-employed
Members type
innovator

Headquarters
04179 Leipzig, Germany
Company size
6
Founders
Martin Jähnert
Founded
2014
SDG's
Clean water and sanitation
Responsible consumption and production
Documents

ebinee and medibinee presentation
ebinee Flyer
medibinee Flyer
Website
binee.com
Alliance member
Binee
---
binee is a courageous Start-up company from Leipzig and is driven by one goal: to make waste a thing of the past
binee is a smart solution and interactive collection point for retrieving waste or any other problematic material in the environment. We conduct an approach of incentives in order to reward users of our binee solution with a coupon, in exchange for the return of the problematic material. Right now, the binee solution applies to two fields: electronic waste and pharmaceuticals. Both fields have different purposes, since one targets to reduce the amount of electronic waste in the world and pushes reuse and recycling forward, whereas the other aims to reduce the contamination of drinking water through wrongly disposed pharmaceuticals. However, these are related to our one vision: making waste a thing of the past!
Set up a binee or become an advertisement partner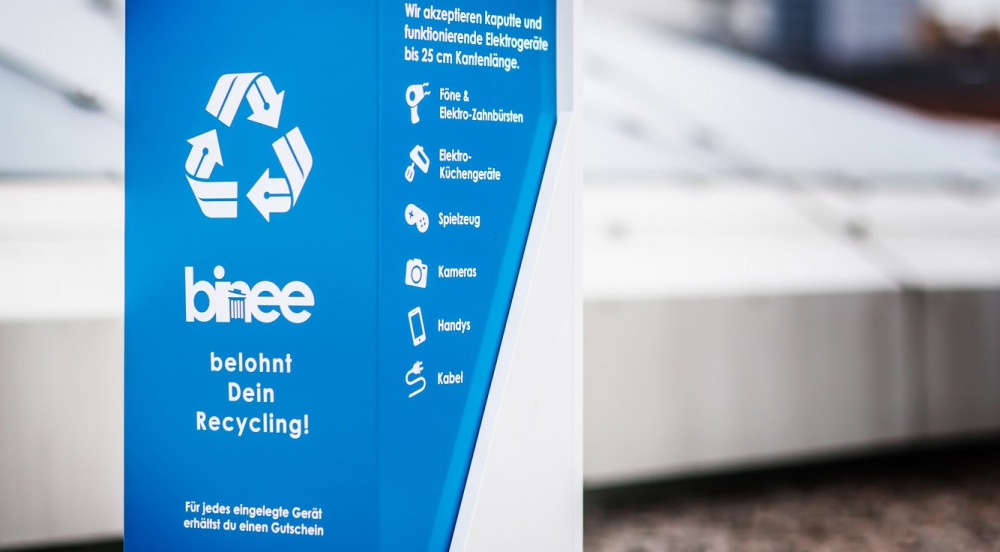 Description
Do you want a binee in your facilities or want to make an appearance on our binee boxes with your logo or your coupon?
binee is always looking for exciting new partners in order to make waste a bit more a thing of the past. You can set up a binee in the facilities of your company or institution or become a partner and support to extend the network of binee with your branding or your coupon advertisement!
Available in
Eastern Europe, Northern Europe, Southern Europe, Western Europe,
Categories of application
Clean water and sanitation, Responsible consumption and production
Sector of application
Water treatment, Circular economy of solid wastes
Status
R&D
---