Contact information
About the company
Type
Startup or self-employed
Members type
innovator

Headquarters
12 Jln Batu Nilam, Singapore 669131
Company size
4
Founders
Julien Mélot
Founded
2012
SDG's
Clean water and sanitation
Affordable and clean energy
Industry, innovation and infrastructure
Sustainable cities and communities
Responsible consumption and production
Documents

Aquanima 28 Solar Electric Catamaran Brochure
Aquanima 45 Solar Electric Catamaran Brochure
Azura Marine Earth & Mission Surya Namaskar Leaflet
Website
azura-marine.com
Alliance member
Azura Marine
---
We consciously design & build Solar Electric Boats, launching symbols of harmony between the Ocean & Outgoing Humanity.
We are a social enterprise established in Singapore in 2012. We design and build solar electric boats to reconcile seafaring humanity and the respect of the environment through the use of state of the art renewable energy technologies and optimized boat design. We are a team of Engineers, University Professors, Naval Architects and Nature Enthusiasts in general. Since our creation, we have been mostly focusing on the South East Asian region. We launched our first prototype in Indonesia, the largest archipelago country in the world as we see this country facing various environmental challenges within its fragile marine eco-systems. We have recently converted a traditional Indonesian boat into the first 100% solar-powered outrigger boat of this kind. To prove this technology is reliable, sea-proof and that any boat can become eco-friendly, we have sailed our boat over 2000 km across the Indonesian archipelago without any technical issue and without burning a single drop of fuel. We are now entering the commercial phase with four different solar-powered catamarans: A yacht to introduce clean propulsion into the boating world, an expedition/tour/dive boat for those eco-conscious businesses such as dive centers, eco-resorts, tour operators, etc., a smaller catamaran to serve as inter-island ferry and water taxi on inland waterways or rivers and finally a craft designed for trash collection at sea, in the marinas or any polluted river to combat plastic pollution with 100% ecological boats.
Solar powered boat
This solar powered boat removes floating plastic debris from the seas and oceans & processes them onboard to reduce their volume for further recycling.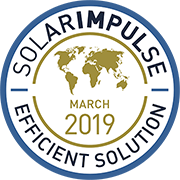 Surya Namaskar - Solar Electric Boat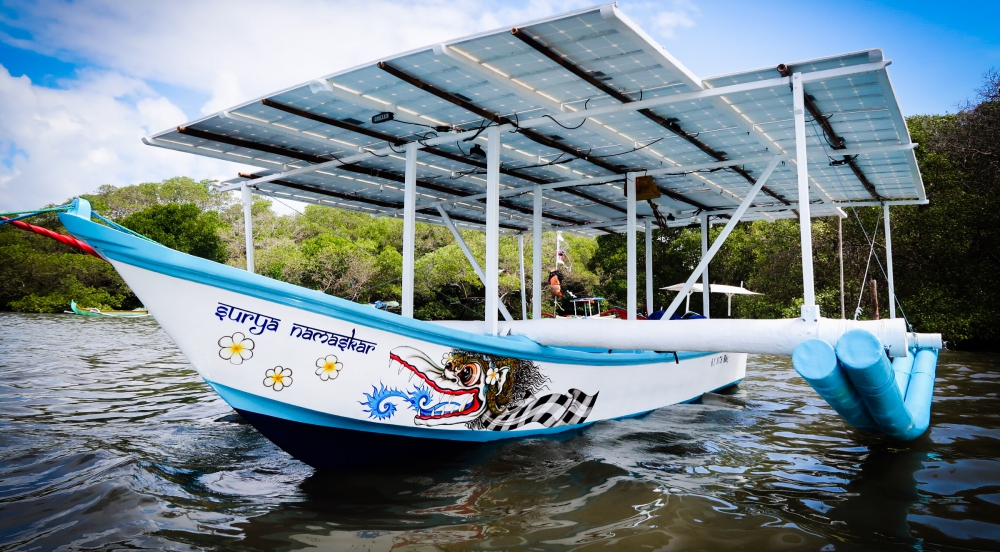 Description
Surya Namaskar is the 1st traditional Indonesian boat powered by the sun.She sailed 1000's of miles across the country.
Azura Marine consciously designs & builds Solar Electric Boats, launching symbols of evolution into the Oceans. With Surya Namaskar, we merged the best renewable energy technologies with ancestral boat building poetry to experience the epitome of harmony between outgoing Humanity and the magnificence of the Sea. Instead of building a specifically designed boat, we embrace local workmanship and traditions and acquired Surya Namaskar, a traditional outrigger boat - or sampan as called in the region - in order to prove that any traditional boat can be turned into a 100% eco-friendly boat releasing no GHG, no oil leaks, no fauna disturbing noise and vibrations and no bad smell. Surya Namskar is 8.5 m long, has a roof of 28 m2 of solar panel yielding in excess of 5 kW of peak solar power, has 8 kWh energy storage capacity and a built in computer with remote access and live display for the energy management. The propulsion is electric with the Azura Marine "Manta 3.0" electric outboard using a maintenance-free 10 kW high efficiency motor and propeller specifically designed for high torque low rpm electric propulsion (efficiency nearly twice that of a conventional outboard propeller). To prove this concept is functional, reliable and economically viable, we have sailed Surya 1000's of miles around Bali and across the Indonesian Archipelago without burning a single drop of fuel, without releasing any atmospheric or sea pollution and without spending a cent to cover that distance. Surya represents the next class of boats for local communities, eco-conscious resorts and dive centers, small inter-island ferries and water taxis. She is 100% pollution and cost-free while offering a supreme comfort to her passengers: the silence. And as the sun raises every day, tanks were always full, suppressing the hassle of fuel logistics, especially in the remote and less inhabited regions. Throughout our journey, we proved that Surya could sail all night long (our longest uninterrupted stage was 36 hours!) and also harvest enough sun power to move at a decent speed without depleting the batteries under in heavily overcast conditions. We offer conversion packages called "Surya" for outrigger boats and multi-hulls and also a range of 4 solar electric catamarans with optimized hull design.
Available in
South America, Eastern Asia, South-Eastern Asia, Southern Europe, Western Europe, Micronesia, Polynesia,
Categories of application
Affordable and clean energy, Industry, innovation and infrastructure, Sustainable cities and communities
Sector of application
Clean energy production, Freight transportation, Urban and inter-urban mobility
Status
Implemented
---