Contact information
About the company
Type
Company
Members type
innovator

Headquarters
201310, India
Company size
30
Founders
Madhur Bansal
Founded
2015
SDG's
Clean water and sanitation
Affordable and clean energy
Responsible consumption and production
Documents

catalogue of product
Website
atonsolar.in
Alliance member
Aton Solar International
---
Aton Solar International is a complete 360 degree turnkey solar solutions provider in India with a special unit for research and development on the application of solar energy, The company which has won many national awards and acclamations has developed products for the benefit of mankind.
We have developed special portable solar generators whereby we have downsized a battery based solar power plant to a handheld, portable and light weight box which weighs one-tenth of the fixed solar power plant. Our this innovation has helped people to power different equipments with our portable solar generator. Some of the applications where we have been selling our product are: 1. as an emergency kit used by fire fighters and civil defence brigades during any disaster or calamity; 2. our product is used by roadside vendors and tailors to power their machine or light their kiosks; 3. we are also giving our product to the tea plantation famers to water their crop by attaching a pump and a raingun with our product; 4. people are using our product as a emergency backup during long trips or when they go for camping. The product is very successful in India and has been featured in various print and electronic media. It has better utilities in other developing countries like Mongolia, Ethopia, Cambodia etc.
Mobile Solar Box 500W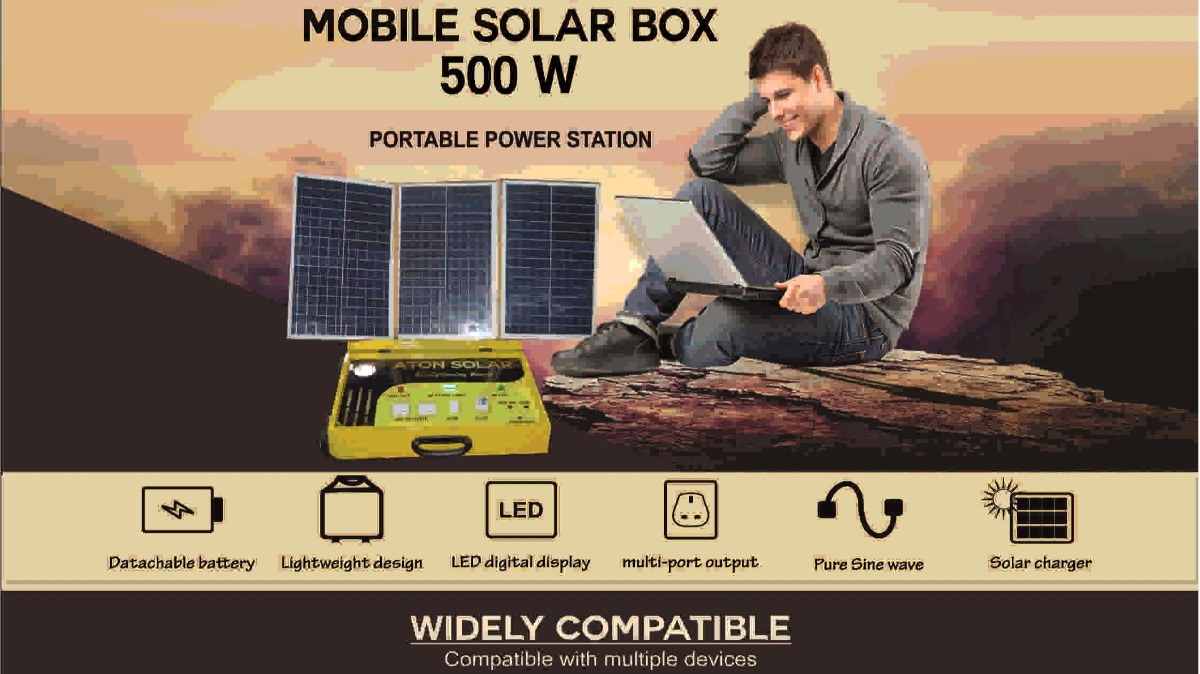 Description
A solar generator to power your appliances, Take it anytime, anywhere as per your requirement.It can be carried easily.
We are revolutionizing portable generator market. Our product is for regions where there is temporary or permanent unavailability of electricity. Currently the market is occupied by diesel run generators. Our product solar powered generators may cost a bit expensive but due to negligible running cost makes it more viable alternative and so has a vast opportunities (of approx. 4BN USD currently with a CAGR of 8% by 2022). The product is a very need of people who are living off grid. The product will be supplied to Disaster relief teams, people living in offgrid areas, country's border patrol teams, high income group people for their leisure activities (they can use it while camping or hiking) etc. The product is also sold in poor regions through service network model by renting equipments. Major equipments with our product are portable solar irrigation system, portable solar energy backup for roadside vendors, solar sewing machine for tailors.
Available in
India,
Categories of application
Clean water and sanitation, Affordable and clean energy, Responsible consumption and production
Sector of application
Water production, Energy distribution & management, Agriculture and farming for food production
Status
Implemented
---