Contact information
About the company
Type
Startup or self-employed
Members type
innovator

Headquarters
84120 Pertuis, France
Company size
6
Founders
Elena Barbizet
Founded
2010
SDG's
Affordable and clean energy
Industry, innovation and infrastructure
Sustainable cities and communities
Website
atollenergy.com
Alliance member
Atoll Energy
---
Atoll Energy engineers and builds high efficiency combined heat and power plant under islanded operations
Atoll Energy is a small company dedicated to play its part in the global movement to ensure that every single drop of energy is used as efficiently as possible. Started by a daughter after one invention from her father, the company is now made of six people collaborating with research labs – CEA, CNRS, and University – to optimize combined heat and power solutions in terms of reliability under islanded operations and return on investment. The company creates decentralized multi-energies plant powered by thermal waste. The first one is being operated by the CEA in South of France; the second one is being built for the Public Utilities Corporation of Seychelles and will be commissioned next spring. The plant lifetime, around 30 years, backs –up the energy transition: they are today powered by waste heat from fossil fuel, they can tomorrow be fueled by thermal renewables: incineration, solar, biomass.
QuadriTherm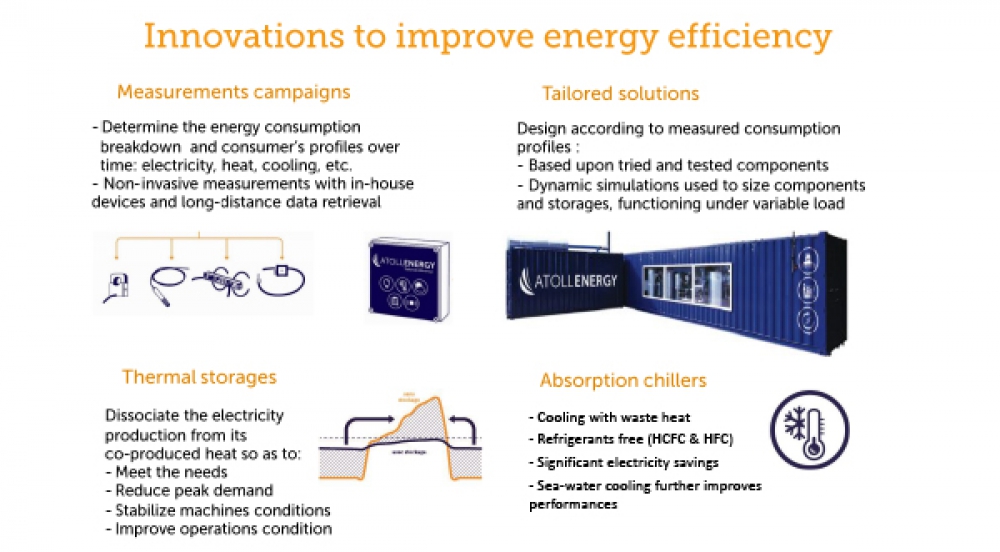 Description
Tailored heat-valorisation solution for thermal power plant renovation, aimed at increasing energy efficiency
Power plants mosts of the time only produce electricity while they could also utilize its by-product: heat. It indeed represents around 2/3 of the energy used to produce electricity while it can meet many needs: heating, cooling and conservation, sea-water desalination for instance. According to the needs around the power plant, Atoll Energy has perfected a methodology to size reliable and cost-efficient plant under islanded operations. Our innovations ensure that 30 to 35 % energy is being saved and that the plant is been made profitable before a third of it's lifetime wihout incentives. Multi-energies measurement campaign Non-invasive measurements devices are installed on the production side and on the one to many consuption sides (heating, steam, cooling, etc.). Our data analysis will then determine the energy consumption breakdown and the consumer's profiles over time: electricity, heat, cooling, etc. This will lead to a reduced investment when it will come to the distribution of utilities. It will also deliver information that engine manufacturers do not provide regarding engine thermal waste at the pace of one own's consumption profile, securing heat recovery without impeeding the reliability of electricity generation. Sizing according to usages Once the data has been analysed, the plant will be sized using modelisation under variable load to adjust the waste-heat ressource according to the utilities need. Thermal storages will be used to dissociatee the electricity production from its thermal by-production. They will reduce peak demand and improve the operations conditions of the machines, espacially the absorption machines that provide cooling or conservation. We will then be ready for our traditional engineering, procurement and construction profession until commissioning. We do intervene for medium-scale project with a minimum of 500 kW electricity mean consumption.
Categories of application
Affordable and clean energy, Industry, innovation and infrastructure, Sustainable cities and communities
Sector of application
Energy storage, Energy distribution & management, Energy from waste, Industrial processes, Building and shelters
Status
Tested implementation
---