Contact information
About the company
Type
Company
Members type
innovator

Headquarters
34353 Beşiktaş/İstanbul, Turkey
Company size
50
Founders
Yasemin Oztaskent
Founded
1982
SDG's
Affordable and clean energy
Documents

Artas Company Catalogue
Website
artas.com.tr
Alliance member
ARTAŞ A.Ş.
---
ARTAS is an engineering, manufacturing, contracting company in Environmental Technologies; Water, Waste, Air, Biogas .
ARTAS, founded in 1982, is the leading and pioneering, specialized, engineering, manufacturing and contracting company in Environmental Protection Technologies. Being well-known throughout the years has unavoidably furnished ARTAS with reliability and market accessibility. We "Design, Build and Operate" systems and realize all facilities regarding environmental, mechanical, electrical, automation and construction of all undertaken plants for turn-key delivery. ARTAS is the largest company in Turkey in its field with more than 120 employees and over 400 references in 3 continents. ARTAŞ contracts; WATER Potable and domestic-industrial process water production WASTE Domestic-industrial waste water (and sludge) treatment, recycling AIR Flue gas treatment and desulphurization BIOENERGY Biogas generation from organic wastes and conversion to electricity/steam ARTAS has CE marked equipments, ISO 9001:2015 Quality Management, ISO 14001:2004 Environmental Management and OHSAS 18001 Occupational Health and Safety Systems certificates. ARTAS came to this day from 1982 with an abiding commitment to its constant, expert, ethical and open minded values. ARTAS crowned by its rapid development in the recent years by its principled and steady growth and placed itself with pride among the "100 Most Rapidly Developing Companies in Turkey" chosen by the Union of Chambers and Commodity Exchanges of Turkey in 2015.
armut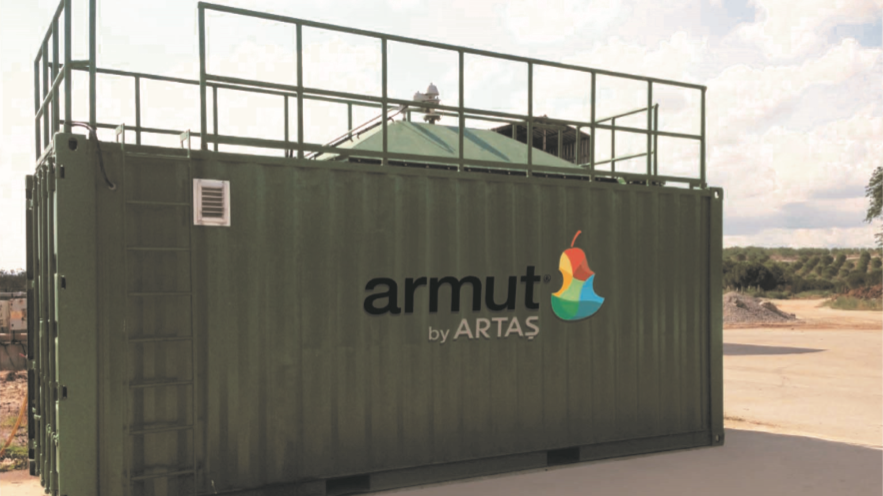 Description
Compact Waste to Energy unit is a containerized solution for farms, hotels, greenhouses, cafeterias, catering companies.
armut® Compact Biogas Unit The compact biogasunit, armut® , designed by ARTAS with the R&D support of TUBITAK 1507, is an innovative product. It allows the small communities to achieve the disposal of waste on site and the production of Energy as well as hygenic digested product. The Functions of armut®; - Waste Preparation and Separation, - Hydrolysis and Fermentation, - Biogas Storage, - Pasteurization.
Available in
Worldwide
Categories of application
Affordable and clean energy
Sector of application
Energy from waste
Status
Implemented
---