Contact information
About the company
Type
Startup or self-employed
Members type
innovator

Headquarters
1015 Lausanne, Switzerland
Company size
6
Founders
Naïk Londono, David Baur
Founded
2016
SDG's
Industry, innovation and infrastructure
Social

Website
aeler.com
Alliance member
AELER TEchnologies SA
---
AELER is an AI-driven company building the technologies to automate in-transit freight logistics.
We focus on robust data collection for predictive and prescriptive analytics of the end-to-end supply chain. To feed its proprietary machine-learning algorithms, AELER has designed a next-generation intermodal container capable of monitoring in real-time the container and its cargo while processing the data at the edge to maximize reactivity.
We believe that through trade, humankind progresses and improves itself, and are persuaded the time is ripe for the right technologies to bring transformational advances in the way our global supply chain network works.
Our vision is to build the optimal tools to enable an efficient and zero-waste trade system while making the exchange of goods ever more accessible and simple for everyone.
Freight transport automation and visibility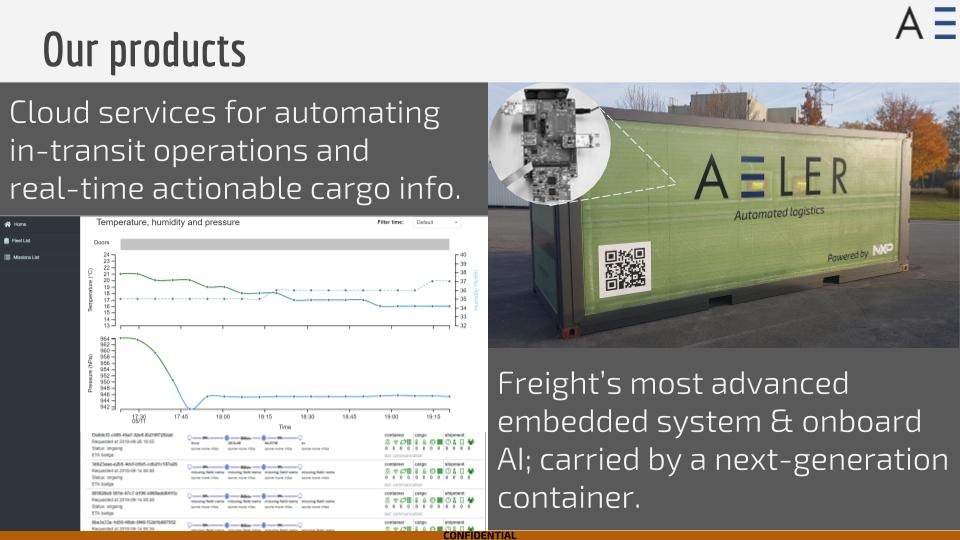 Description
We use AI and the world's most advanced container to enable full visibility and automation of freight transport
AELER enables visibility along the supply chain and automation of transport operation management through the use of proprietary AI algorithms. We make use of existing data and data generated using our C3 containers - the most intelligent containers in the world. We take customers through a value-creation journey consisting in: 1) a complete assessment service to map out digital bottleneck and quantified opportunities 2) we propose one of our digital automation services and will integrate it with your existing systems, or we will help you develop a new automation system if needed. This can include the use of one of our containers which will bring full visibility, agility and risk mitigation in-transit, reducing uncertainties and the costs related to them.
Available in
Northern America, Eastern Asia, Eastern Europe, Northern Europe, Southern Europe, Western Europe, Tunisia, Morocco, Egypt, Algeria, Western Sahara, Sudan, Libya,
Categories of application
Industry, innovation and infrastructure
Sector of application
Freight transportation
Status
R&D
---